Here at the Saskatoon EX, we pride ourselves on our very own patented delicacy – the much-loved Spudnut.
For the past 50-plus years, Saskatoon EX patrons have been lining up for this unique ring of deep-fried goodness, making it a culinary staple for many EX-goers. Some might mistakenly believe our Spudnuts are like any other regular potato doughnut, but they are dead wrong. Our secret recipe includes a specially-spiced potato flour made by Bakemark that is patented to Prairieland and is only used in the making of our Spudnuts. So don't be fooled; not all Spudnuts are created equal.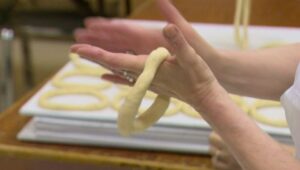 Making the perfect Spudnut isn't easy; in fact, at Prairieland, it's a team effort! Each summer our Spudnut Superviser oversees the production of the 6,500-11,000 goodies we bake and sell each day of the Saskatoon EX. The mixers arrive at 5:30 am to begin the mixing process (second shift starts at 2:00 pm). The dough is separated into batches which are covered and left to rise for an hour before a room full of staff hand-form the dough into rings. Trays and trays of dough rings are left to rise for another 45 minutes before they're ready for the deep fryer. Lastly, comes the good stuff! Vanilla Spudnuts go into the glaze hot while chocolate Spudnuts go in cold. From start to finish, it takes 65 employees to execute the mission!
Sure, it's a process, but we love the tradition of making AND eating them as much as you do! You'll find the Spudnut Hut right across from the Sasktel Grandstand as you enter either end of Concession Row.
*Spudnuts are made with potato flour, however, we cannot guarantee that the kitchen or the process is entirely gluten-free. If you are concerned, celiac or otherwise intolerant, please do not consume this treat. Our patron's health is important to us, so please be safe, and enjoy!